Archaeologists have discovered a 2000-years-old Roman mosaic, the largest in 50 years, at the site of The Shard in London.
The discovery was made earlier this month by the Museum of London Archaeology (MOLA) while they were excavating the location. The excavation work, carried out near The Shard, was for the preparation of building new structures around the skyscraper. But little did anyone anticipate the discovery of a well-preserved Roman mosaic that was nearly two millennia old, and the largest in nearly half a century.
The mosaic consists of two panels, a larger and a smaller one. The larger panel is said to be from the 2nd or 3rd century CE and decorated with stylized flower patterns that were intertwined. The design also features Solomon's Knots, a recurring motif in Roman-era designs. The smaller panel also feature flower patterns and knots but of a slightly different style.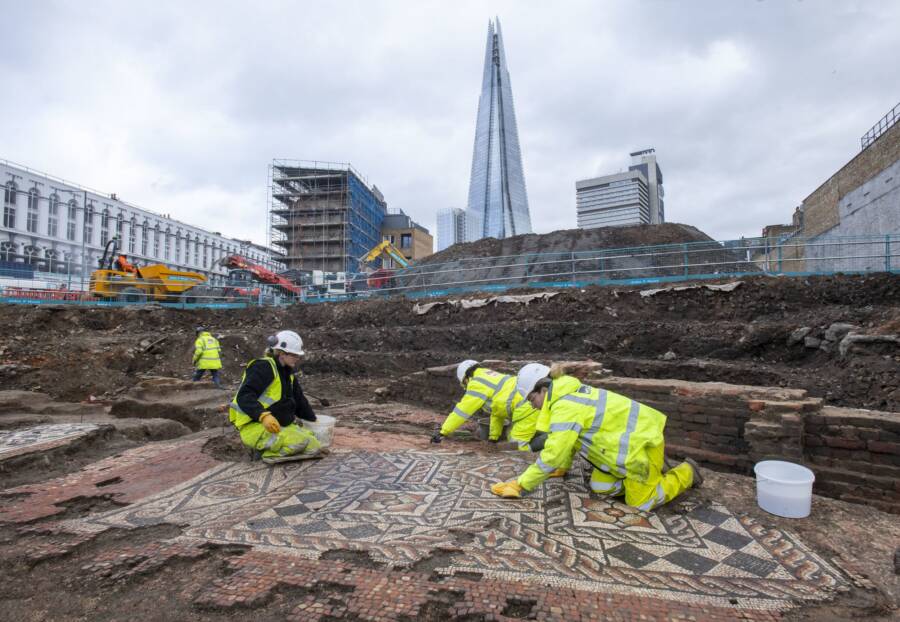 It is believed that the mosaic would have served as the floor in a Roman "mansio", which were the equivalent of motels in the Roman era, exclusive to larger, urban locations. The mansio catered to high-ranking officials and noblemen who visited the city for travelling. The design pattern of the mosaic is very similar to the one discovered in the city of Trier, Germany. This suggests that the two mosaics were designed by the same group of travelling artisans.
Also Read: Basquiat Triptych To Debut In Auction For First Time In Christie's May Sale
The Shard is one of the most recent landmarks in London. The 72-storey skyscraper, named so because of its appearance like a glass shard, was inaugurated in 2012. It is the tallest building in the United Kingdom, and the 7th tallest building in entire Europe.