The much-awaited exhibition "Baby, It Ain't Over Till It's Over" by Anna Weyant at Gagosian saw huge crowds and celebrity guests.
The highly anticipated exhibition by the 27-year-old Anna Weyant – the rising star of the art world – was a crowded affair. Held at the Upper East Side location of the Gagosian, the exhibition opened on Thursday night. The limited space was packed with affluent guests who wanted a glimpse of the seven new works by the artists, as well as her several sketches and studies. The security guards, who usually don civilian clothes on such occasions, wore their uniforms and urged the onlookers to keep moving.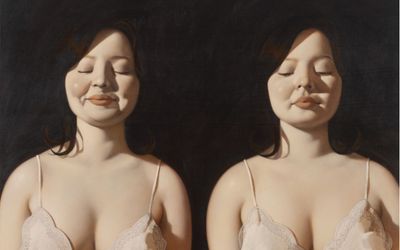 Anna Weyant herself was the show-stopper of the event, her arrival met with roaring applause. As she moved around the event, she was met with congratulatory greetings at every step and had to be urged by the guards to keep moving every few seconds. Many notable names were present on the opening night of the event. These included fashion designer Marc Jacobs, artists Stanley Whitney, art collectors Glenn Furhmann, Aby Rosen, and Bill & Maria Bell.
Also Read: Art Basel Funded Blockchain Startup Arcual Gets Launched
Two of the subjects of Weyant's work were also in attendance – tennis superstar Venus Williams, who modeled for the artist, and influencer Eileen Kelly. Meanwhile, Eileen Kelly – who broke out first with her provocative posts on Instagram – has emerged as a favorite subject of Weyant. She is the subject of Eileen and Two Eileens, both created this year.
Anna Weyant's rise in the art world has been meteoric. She is the youngest artist ever to get a solo exhibition at the Gagosian.